You would be surprised! As an example, according to the Austrian Meteorological Institute, in Vienna in 2022, it did not rain during 94% of the hours. Moreover you could often have avoided the rain in the remaining 6% of the hours by waiting 15 minutes or so[1]. Our bicycles are all equipped with rainguards, so even if you hit a puddle after the rain has stopped, you won't have to be afraid to spoil your clothes.
Half of all car trips in Austria are less than 5 km in length[2]. For trips ranging from 0,2 to 5,0 km in urban environments, the bicycle is the fastest means of transport, beating walking, public transport and the car[3]! And compared to the car, you will not lose time or money for parking. Our bicycles are all equipped with gears and good saddles to provide you a comfortable ride in the city.
You would be surprised how quickly you get the hang of it! But still, if you feel unsure about this, you can always combine your trip by cycling to the most convenient public transport, and switch there. All our bicycles come with stable kickstands for parking your bicycle safe and solid. Further we also sell good locks, so you will find your bicycle waiting for you when you return. Moreover, many of our bicycles are available with an e-bike option providing you with some additional endurance should you need that.
And you shouldn't rush yourself if you are not used to cycle in the city. Fortunately the Austrian cities witness an increasing number of bikepaths and lanes[4], which are specifically intended for you: hard-core racebikers or mountainbikers will look for other places to ride. You can and should cycle as slow and secure as you feel, and you will notice that you will gain confidence in yourself quickly. With the upright sitting position of our citybikes you have a good overview of the traffic around you and you'll notice that you will quickly feel more confident. All our bicycles are fitted with good lighting, so even in the dark you will be well visible to other people in traffic. Further we will make sure you drive a bicycle with a framesize and saddle height fitting your experience, skills and expectations towards comfort.
Our bicycles are all equipped with gears, allowing you to master any city streets comfortably. Further you will notice that the upright riding position typical to our citybikes will automatically guide you towards a relaxed cycling style, minimizing the risk of you ending up smelling like the interior of the U6 on a Friday night. And if you still are afraid you will break a sweat, many of our bicycles are available with an e-bike option giving you an extra push should you need one.
And you shouldn't! You should keep your bicycle on the street or at least at street level, so that you can use it on a whim. Keeping your bicycle on the street is fully legal, as long as you don't hinder other traffic or pedestrians[5]. Our Azor and Gazelle bicycles are designed to spend a lot of time outside and still keep rust at bay: the painted metal parts of all our bicycles have 3 layers of hardened lacquer, and the small parts are made of as much non-corrosive metals as possible. Moreover, the welding joints in Azor bikes are additionally soldered with copper. Further all our bicycles have a stable kickstand so your bicycle will remain standing upright even if there is some wind. Finally, although most of our bikes are already equipped with a lock, we sell sturdy additional locks, so you can be confident that you will find your bicycle where you left it. Still unsure about keeping your bike in the street? Our Bella Ciao and Pelago bikes are very light so if you really need to, you can easily carry these up or down a flight of stairs.
If you sit upright while cycling, your suit or dress will not suffer more than from sitting on a chair. Our city-bicycles allow you a comfortable upright sitting position keeping your wardrobe the way you like it. Moreover most of all our bicycles have rainguards, so even if you hit a puddle, you won't have to be afraid of making your neighbourhood dry-cleaner happy again.
True.. therefore you should use a bicycle with a chainguard so you don't have to worry about your clothes when you use your bike when commuting or going out. Most of our bicycles have fully closed chainguards, which also help to keep your bicycle in perfect working order by keeping dirt off your chain.
Punctures are so 1990s! Or actually, of today too, if you choose to use run-of-the-mill tyres. Fortunately all of our bicycles are equipped with modern, highest quality puncture-proof tyres with a profile optimized for city usage: although they are extremely rugged and hardly get punctures, they still roll very light.
We believe that if you use your bicycle in the city, you need to be able to safely and comfortably transport your bag or shoppings. Therefore most of our bicycles come with a transport rack, and even with optional transport crates or baskets.
Indeed..
That is what the Dutch said in the 1970-ies about Holland. But this is how it looks now in eg. Utrecht, the Netherlands:


Let's set ourselves the goal that Vienna will look like this in 2025 (or at 2:05 in the videoclip above if you don't feel like waiting so long)! But already today Vienna experiences an increasing level of street infrastructure for cyclists: have a look at the links for a map of the Vienna bikepaths and -lanes.

If you are interested in an overview and history of Dutch urban cycling policies, and would like to compare the situation with that in Austria, have a look at the following link (Video in English only): How did the Dutch end up with their current urban cycling policies? For more info about the Austrian and Dutch urban cycling policies, please visit our links section.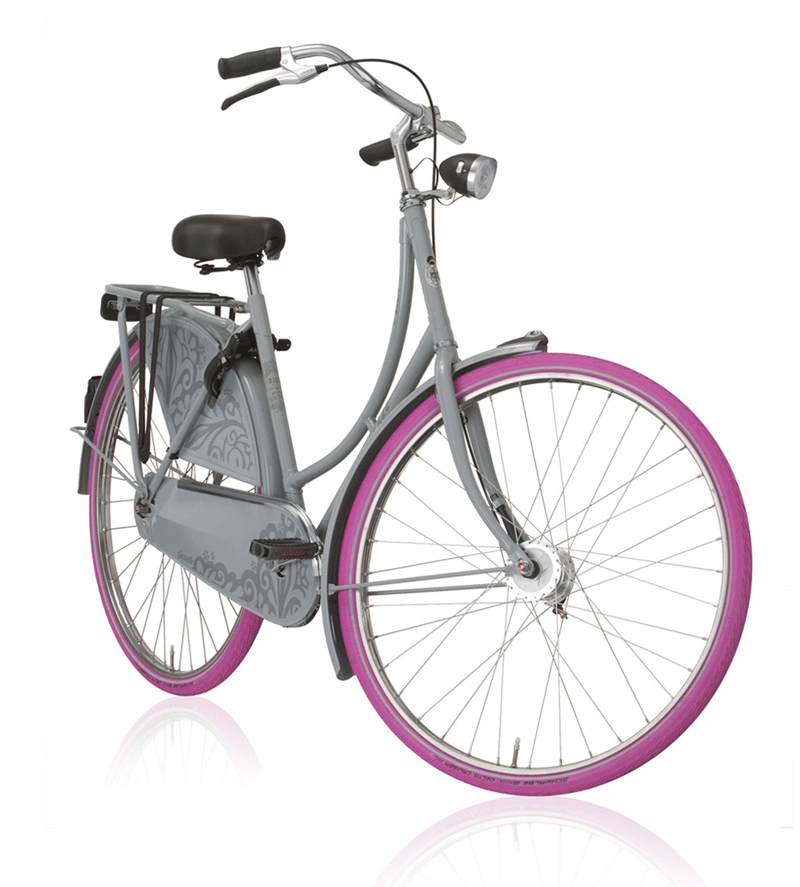 Why would you buy an omabike or other dutch citybike when you already have a mountainbike or racer? Have a look at the www.hollandrad.at-webpages for a description of an omabike as ideal citybike (in German only), or have another look at the starting page and move your mouse over the parts of the citybike pictured there. You can find an overview of what to look for when buying a citybike here. And are dutch citybikes boring and old-fashioned? Do visit our store: you will be in for a pleasant surprise! Or have a look at Stadtradler's bicycle picture gallery right away. And in the end it is YOU who makes your bike stand out: watch the picture article about omabikes and fashion in Amsterdam. Read more on lifestyle and urban cycling in our links.